Here are our featured properties
---
Order the latest Costa Blanca Hot Property Guide
---
The September 2019 edition includes:
A VIP Viewing Trip offer,
the Hottest Property list,
a case study with a family who purchased in Spain,
and additional information about areas and properties.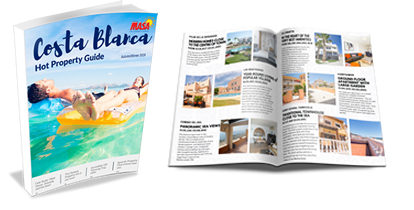 Let us help you make your dream of buying a property in Spain come true!
Order the latest guide using the provided form or speak with one of our property advisors on 020 8686 4696.
Note that fields marked with an asterisk* are mandatory. We value your privacy and won't share your details with third parties.
---
MASA International, Spanish Property Specialists
---
MASA International is a fully accredited company that has helped over 36,000 families find their property in Spain. MASA International was founded in 1981, and has grown from its simple beginnings as a beachfront estate agency to the solid, international organisation it is today without ever losing that special 'family feel' that our clients continue to find reassuring.
MASA is one of only a few property companies on the Costa Blanca of Spain to have been accredited with ISO 9001 status, which means you benefit from our proven commitment to excellence in customer service and administration.
Let us help you make your dream come true buying a property in Spain: